The Guardian's sport website was named website of the year for the third time in succession. Judges said it was "the destination of choice for serious sports fans. Live coverage is invariably elegant, witty and most importantly quick. The site looks handsome, is easily navigable and boasts some of the finest sports journalism around."
The Guardian and Observer were also highly commended in six categories: cricket writers Vic Marks and Rob Smyth, columnist Marina Hyde, Television Sport for our Hillsborough documentary, Owen Gibson for sports news reporter, and multimedia package for our coverage of Rio 2016.
2016 SJA Awards: wins for the Guardian and Observer
Ladbrokes Football Journalist: Daniel Taylor
Specialist Correspondent: Sean Ingle
Sports Scoop: Daniel Taylor – Andy Woodward interview and sexual abuse coverage
Sports Website: www.theguardian.com/sport
Highly commended: Vic Marks, Rob Smyth, Marina Hyde, Owen Gibson, Television Sport (Hillsborough documentary), Rio 2016 multimedia package.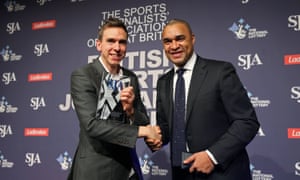 You can help make the Guardian's future more secure by becoming a Supporter or making a one-off contribution